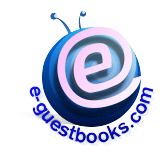 Welcome to E-GuestBooks,
the best little guestbook
service on the internet


Free guestbooks for your web site, blog, group or forum.

Allow visitors to leave feedback or comments.

Provides a reason for visitors to return to your web site.

Many Advance Features

Nothing to download,

Easy setup,

Great support

And its FREE.
Guest Book Features
Free Version -
(Sample Free Account)
Guestbook Spam Control
Enable/Disable Comments section
Profanity Filter
Messages stamped with Country of Origin, Flag Icon
Ask visitors up to four additional questions
Ability to mark Additional Questions as required entry.
Custom Timezone Settings
Give your Guestbooks a unique Name.
Option to approve all messages
Custom text header
Change the color of the background and text.
Change the size of your text
Automatically send 'Thank You' email to guestbook signers.
Receive Notification when someone signs your guestbook
Delete individual messages
Guestbook messages are signed with visitor IP.
Visitor counter with anti-bumping feature.
Message counter.
Private messages.
10 entries per page with navigation buttons.
Anti-Flood control.
Download text version of guestbook.
Fast Perl/MySQL user database.
Hide Visitor E-Mail address.
And its FREE - Signup Now
---
Prime Account Features
(Sample Prime Account)
All the Free features PLUS...
Remove Advertisments from your guestbook pages.
Edit/Delete Visitor Messages
Custom HTML headers with images
Custom "Thank You" E-Mail message.
Select background images.
Select colorful Top navigation buttons
Colorful Message Dividers
HTML comments with images.
Turn IP tracking On/Off
Turn Private Messages On/Off
Turn E-Mail address field On/Off.
Turn navigation buttons On/Off.
Turn visitor counter On/Off.
Turn Spam Trap On/Off.
No automatic renewal, No hidden charges
$11.95 annual fee. (No obligation to renew)
Signup Now